Accommodation
---
---
General Information
Participants of the conference have to book their accommodations. Since the conference place is near the Samsung Station, Subway line 2 the hotels and residences near the COEX center are only listed. All of them are either within walking distance of the conference place or can be reached easily by subway and by taxi. Seoul metro buses are available but they are somehow inconvenient for one-time foreign travelers. No rental cars are needed.

There is a big conference called OECD Ministerial Meeting on the Futrue of the Internet Economy at the COEX center during June 17-18. Due to this conference we expect the accommodations near the COEX center are limited. We recommend all the participants to book accommodations as early as possible.
---
Hotels
We recommend the two hotels, Ramada and Best Western. Others are more expensive.

Looking for more hotels near the COEX center you click on the link.

Looking for more hotels in Seoul, you can browse Expedia Travel, Orbitz, Seoulnavi (in Japanese), Hoteljoin (in Korean), and Hoteltravel (Multilingual). Choose "Seoul" for your destination and you may find discount sale prices.
---
Residence (Serviced apartment)
We have blocked more than two hundred rooms by the end of April. The prices in the list are all special SUSY08 rates. Please give the booking code "SUSY08" when you make a reservation.
double bed: 80,000 KRW (tax included)
twin bed: 85,000 KRW (tax included)
breakfast: 7,000 KRW per person
free internet connection
reservation information: Download the reservation form. Fill the form and send it by email or fax.
---
MAP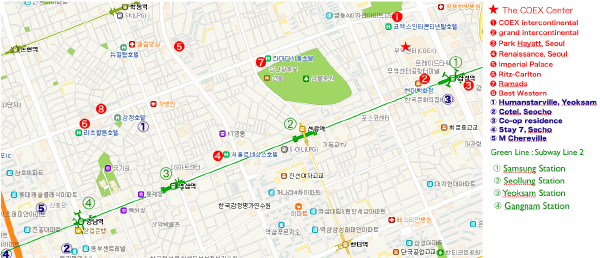 Download the larger version of the map. png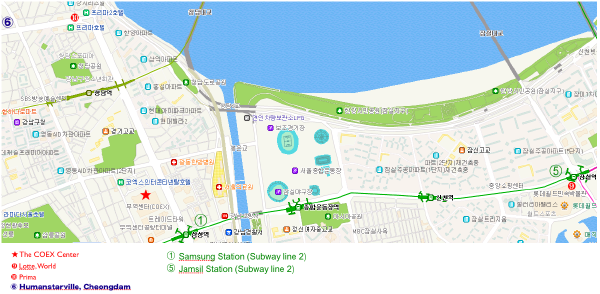 Download the larger version of the map. png
Check the Google satellite map around the COEX center.
View Larger Map
Return to top